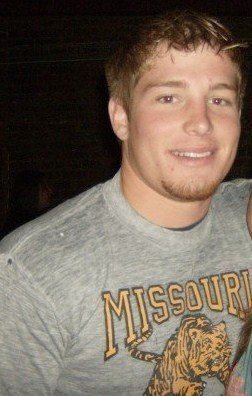 William "Blaine" Whitworth was born in Houston, Texas on February 21, 1987. He was named after both of his grandfather's but we chose to call him Blaine, after his grandfather Blaine Famuliner. He lived in Houston until 1993 when we took a bold step and returned to the family farm. He attended Sherwood Cass RVIII from Kindergarten through graduation in 2005. Through the years, watching Blaine grow and challenge the world around him was invigorating, frustrating, challenging and inspiring. Never was there a child more set in his ways to change the way people, and society around him, functioned.
Blaine was one of those people that everyone knew and if he was in the room, you knew he was there making things happen. While in High School he organized a boycott of the lunchroom and managed to convince Channel 4 Problem Solvers to come to Sherwood and cover the story. Needless to say he was not too popular with the administration and kitchen staff. He only wanted for them to give students a voice in the lunch menu, and did not intend to be offensive to the staff; he just wanted to make things better for students.
Growing up on the farm Blaine had the opportunity to experience having chores and being a hay hauler. Each of the boys while growing up managed their own hay crew and Blaine certainly maximized the social part of haul hauling with extra-curricular activities. What his parents did not know that the reason his friends wanted to work for him and stay overnight to haul hay, was that they were sneaking out late at night and cruising in his dad's chevy luv truck. That scheme eventually landed him "busted" and resulted in appropriate punishment of manual labor at the direction of dad. To say the least, none of those involved will ever forget those times.
Blaine went to college and attended the University of Central Missouri in Warrensburg, Missouri. He immediately got involved on campus and became a Student Ambassador and loved playing intramural sports. He always wanted his parents to come and watch. He didn't care if they were the only parents there, he loved an audience. Blaine majored in Safety Management and was fortunate to get an internship on the Deep Water Horizon oil rig. He loved his major and the Safety Department at the University of Central Missouri. After graduation and working for Ash Grove a short time, he had an opportunity to work on an oil rig. Life was great for Blaine. He was making a wonderful living, working 2 weeks on and then had 2 weeks off and getting to travel and see the world. However, the insatiable thirst for a full life that Blaine had succeeded at being a Safety Manager on an oil rig. He wanted, again, to test the waters and rock the boat.
We received a call in July, 2011 from, Blaine and he told us to meet him at Warrensburg on Pine Street in front of Bodie's. When we arrived, he jumped out of the building door announcing, "I bought this Bar". We were in shock as we walked through the building…as there was much work to do and at the time he was still working on the oil rig. He told us he planned to have it open by September 1, 2011. Our first thoughts were, no way would that be possible. As he had many times before, he didn't know the word no and he proved us wrong. We worked beside him, helping and being amazed at the progress. He overcame many hurdles and had his grand opening on September 1, 2011.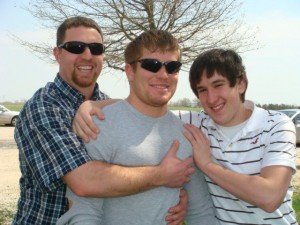 We were very proud of our son. We worked hand-in-hand with Blaine to turn Bodie's on Pine Street into a place where people once again gathered and made memories just as we had in our college years. Bodie's became a popular spot on Pine Street and our next surprise came in February, 2012 when Blaine informed us that he had bought another bar, right up the street on Holden. Blaine's sentimental soul did not hesitate to re-name the bar after his beloved grandmother and named the bar, Molly's.
By this time he had left the oil rig and worked 24/7 at the bars. He prided himself in being a Mr. Fix it and was frequently seen during the day running between the two bars in his signature attire of his safety retardant pants and most usually muscle shirt and ragged tennis shoes. He was living his dream and on top of the world. He had enlarged the patio at Molly's and he was always proud and ready to show off the improvements.
On September 1, 2012, one year to the day of opening Bodie's Bar, Blaine's life was taken. He was murdered at his home in the driveway and our lives and those of so many were changed forever.
While this senseless act of violence makes no sense and as they never do, our family had to make a decision. We chose to find a way to keep Blaine's memory alive by continuing the good works he was doing of "Making a Difference" in the community. While we did not realize it at the time, Blaine was a true entrepreneur. He was obsessed with physical fitness and loved going to the park and playing any sport with any age group. He also had a soft place for those less fortunate. In less than a year he began the process for a 28 year old homeless person to get his GED and helped another begin his journey to get his college degree. The employees that worked for Blaine wore t-shirts that stated on the back his favorite slogan "Go Big or Go Home"!
Photos