About Blaine
William "Blaine" Whitworth was born in Houston, Texas on February 21, 1987. Blaine was one of those people that everyone knew and if he was in the room, you knew he was there making things happen. Over the course of his life, Blaine did a little bit of everything - farming, community action, entrepreneurship, cage fighting, and more. Blaine was dedicated to helping others and making a difference in his community.
On September 1, 2012, Blaine's life was tragically taken. He was murdered at his home in the driveway and the lives of his family and so many others were changed forever. Today, the Blaine Whitworth Foundation exists to keep Blaine's memory alive and continue doing the work he started.
2023 Tournament Countdown

2022 Blaine Whitworth Go Big or Go Home Golf Tournament Recap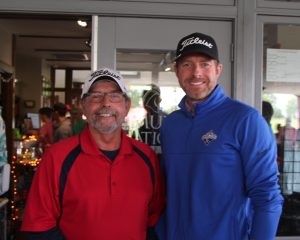 The second Blaine
Whitworth
Go Big or Go Home Golf Tournament is in the books and we are so grateful for the beautiful weather and the success of the tournament. It was held on Friday, October 14, 2022 at Mules National Golf Club with a full field of participants with 58 teams! This year we had an increase in sponsorship and had over 53 sponsors!!! We had a hole in one contest for $30,000 for a car on the 11th hole (which unfortunately no one won, however, there were some very close shots)!!
We had chances to win prizes on every hole and concluded with a luncheon and announcement of winners and prizes. We also held a successful Silent Auction raising $1766 and the Raffle raised $1800. We had a 50/50 contest to get it on the green on the 18th hole and were able to award $335.00. The overall tournament championship winners were Gary Krabiel and Tim Krabiel. We had four flights with five prizes and listed below are the winners:
Championship Flight
1st Place -- Gary Krabiel and Tim Krabiel
2nd Place -- Richard Robinson & Jeff Woodward
3rd Place -- Kyle Houts & Mike Parris
4th Place -- Doug Karleskint & Randy Russell
5th Place -- Bill Odneal & Sean Odneal
A Flight
1st Place -- Tom Walker & John Morris
2nd Place -- Tony Esposit & Mike Young
3rd Place -- Tabitha Davis & Melissa Davis
4th Place -- Connor Harrington & Tom Martella
5th Place -- Randy Vogel & Bub Palmer
B Flight
1st Place -- Hank Hamann & Marilyn Hamann
2nd Place -- Joe Good & Kelley Good
3rd Place -- Keith Fenwick & Rick Butterfield
4th Place -- Aaron Beisly & Sean Geer
5th Place -- Ron Gough & David Edwards
C Flight
1st Place -- Denny Brown & Ted Houts
2nd Place -- Matthew Heinrich & Rick Scism
3rd Place -- Tucker
Whitworth
& Taylor Cameron
4th Place -- Jacob Briggs & Jack Ladouceur
5th Place -- Mike Erdmann & Jakob Erdmann
Thanks to the generous support of our sponsors we are in the endowment process of our third scholarship at UCM which is for members of Greek Life for Community Service. In addition, this year we have contributed to Big Brothers and Big Sisters, Warrensburg, Main Street as a Pedigree Partner; Manna Harvest; provided blankets for the Garden City Ministerial Alliance
Food Pantry; lend a hand up by assisting a family of domestic abuse with car repairs and housing needs; assisted a single father in an emergency financial situation and donated to a family suffering a family tragedy; we supported fund raisers for the Warrensburg Public School Foundation; Warrensburg Chamber of Commerce and Sherwood Booster Club as hole sponsors in their golf tournaments; provided three $500 scholarships to students at Sherwood High School for Community Service; sponsored two airmen to the State Fair. We are in the process of converting the tennis court in Garden City to two pickle ball courts. All of these activities are in support of our three main goals to support entrepreneurship through scholarships; promote youth sports and recreation and lending a hand up to those in need.
March 24, 2023
The Blaine Whitworth Foundation is proud to announce that TWO new Pickle Ball Courts are coming to the Garden City Park!!! The fences are installed and
[…]
March 23, 2023
Diane and Barry Whitworth visited UCM Farms over the last few weeks and was able to meet many of the hard working members oft the UCM
[…]