What We Have Done Recently
Go Big or Go Home Race
In December of 2012, we were approached by a group of Blaine's friends who said they would like to have a 5K Race/Walk in Blaine's honor in downtown Warrensburg.  On April 6, 2013 the Inaugural Blaine Whitworth Go Big or Go Home 5K Race was held and since then we have held the race each year, growing the number of participants and funds raised for the Foundation. In addition to the race, we hold a Silent Auction and each participant is treated to a hearty pancake breakfast after the race. It is through the generous donations of our sponsors and participants that we are able to host these events. In 2016 over $15,000 was raised for the Foundation and our 5th Annual Go Big or Go Home Race is scheduled for April 8th, 2017.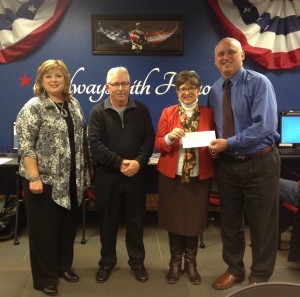 Veterans
The Blaine Whitworth Go Big or Go Home Foundation again presented a $1,000 donation to the UCM Military & Veterans Success Center, pictured are Coordinator of Military & Veterans Services, Delilah Nichols, Barry & Diane Whitworth and Director of Military & Veterans Services, Jeff Huffman
Project Community Connect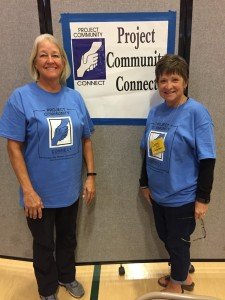 Giving a Hand Up to those less fortunate is one of the primary three goals of our foundation. Project Community Connect was held at UCM on 10/14/2016 this year, providing medical, dental, vision,  and service organization support, birth certificates, driver's license or ID cards through the Department of Motor Vehicles, flu shots, clothing, food, and other services all under one roof. This was our 3rd year participating and we were pleased to be able to present them with another $1000 donation. Go to www.ProjectCommunityConnect.org for more information.
Scholarships
In 2016 we have donated $7000 toward Scholarships for students at UCM, including:
Four Community Service Scholarships were awarded to Greek Life Members Michelle Aiello, Kirsten Alsup, Jennifer Gonzalez and Calli Brewer. Three Community Service Scholarships  were awarded to Student Organization members Katherine Gill, Tiana Key and Ashleigh Burnett.  These scholarships award students that excel in Making a Difference in their Community.
The Blaine Whitworth Go Big or Go Home Foundation has established the Blaine Whitworth Entrepreneurial Scholarship with the first recipient, Ashley Garrard, awarded in 2016.
The Whitworth Family has established a Scholarship in Blaine's memory through the UCM Foundation for students majoring in Safety Sciences as well.
Speaker Series
In January, 2014 we learned that the University of Central Missouri offers a BS Degree in Entrepreneurship & Social Enterprises. It made perfect sense to us that working with the University was a great place to start as our first and primary focus to best honor Blaine's memory is to help aspiring entrepreneurs to achieve their dream.
In January, we met with the Dr. Mary McCord, Professor & Coordinator of the Entrepreneurship & Social Enterprise Program, and then launched the Blaine Whitworth Go Big or Go Home Entrepreneurial Speaker Series on May 5, 2014. We have continued the Sponsorship of the Blaine Whitworth Speaker Series bringing outstanding experts and successful entrepreneurs to UCM to address students and community members, in both the profit and not-for-profit sectors.  In 2016 4 Speaker Series were sponsored and three sessions are planned for the spring of 2017 on February 7, March 7 and April 6th.
Warrensburg Main Street
We donated $1000 to Warrensburg Main Street as a Pedigree Partner.
Youth/Boy Scouts
A Utility Trailer was purchased for Boy Scout Troop 244 of Garden City, MO to help on trips and with storage needs.
Community Support
We pa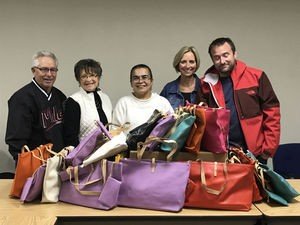 rticipated with Harley's Angels and donated 22 purses filled with personal items and we included an extra $20 in each purse which were
donated to Survival House, Warrensburg, MO.